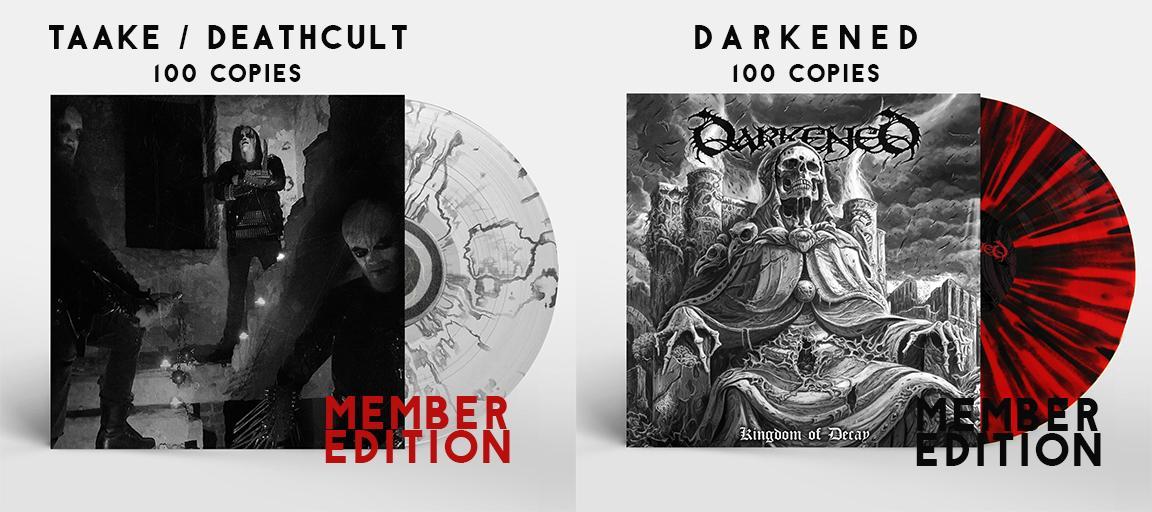 Support an independent record label directly, as we fight our way up to stand strong as a BETTER alternative to the corporate music industry! 
This is your chance to purchase a membership, which in return guarantees exclusive vinyl versions of either 3 or 5 upcoming LP releases through us (one copy from each title). Member limitation is set to maximum 100 subscriptions at all times. Not even the ARTIST gets these ones, and they are STRICTLY meant for this purpose only, and includes the following:
– Unique MEMBERS ONLY versions of our upcoming releases (only 100 handnumbered copies). Forget the date and pre-order…just wait for it to arrive safely in your mailbox
– FREE shipping and handling WORLDWIDE (you will receive the releases included in your subscription plan separately and upon release)
– Your chance to pre-order official regular versions before anyone else
– Receive our exclusive newsletter with possibility to purchase mis-pressed items, test pressings…not available to anyone else

First one out is the upcoming Taake / Deathcult "Jaertegn" vinyl release on the 10th of July…this one will be truly special, and we JUST got band confirming we are good to go ahead with it! Also we can reveal that number 2 will feature members from ex-Bolt Thrower/Memoriam, ex-Dismember…This is your chance to join us into something special, and HEY…if you dont like a release coming to you, you can always trade it with someone else or sell it!
Lastly, we have reduced the price to the absolute lowest possible (dont forget postage is included here), but just enough for us to make this into something special. This is for the collectors out there, so this offer does NOT go out through social media…only to selected few and our customers. Join us!